The Problem with Traditional Material Requirements Planning
Traditional material planning and control system (ERP/MRP and distribution requirements planning systems) are systems in which detailed forecasts are used to procure needed materials and push manufacturing orders through the production and distribution system to the point of consumption. This system is typically called "Push and Promote". These legacy rules and systems are causing enormous amounts of friction and compromises within and between manufacturers in today's more complex and volatile supply chains.
Most Purchasing and Materials Managers feel like they are caught between a rock and a hard spot. Shortages of critical items must be eliminated while at the same time inventory levels must be dramatically reduced and expedite related expenses minimized. In today's economic climate this conflict is more urgent than ever. Unfortunately, most of the today's available tool sets are insufficient to effectively resolve this conflict in the face of increasing demand and supply volatility and variability. Learn about the shortcomings of tools like MRP and Demand driven MRP is based on the best attributes of Six Sigma, Lean, TOC and MRP. This integrated but still intuitive approach will give lower inventories, better customer service, better use of capacity and lower supply chain risk.
DDMRP Benefits
Improved customer service
Users consistently achieve 97-100% on time fill rate performance
Lead time compression
Lead time reductions in excess of 80% have been achieved in several industry segments
Right-sized inventory
Typical inventory reductions of 30-45% are achieved while improving customer service and eliminates 'bi-modal' inventory distribution - 'Too much of the wrong - Too little of the right'
Lowest total supply chain cost
Cost related to expedite activity and fals signals are largely eliminated (emergency shipments, partial ships, cross-ships, disrupted schedules
Easy and intuitive
Planners see priorities instead of constantly fighting the conflicting messages of MRP
This training is intended for
Business Process VP's Directors of Supply Chain, Demand Planners, Business Operation Planners, experienced schedulers, in other words, Supply Chain Practitioners. The methodology is highly intuitively, but puts numbers to the 'feeling' and enables proven control mechanisms.
The difference between an APICS Training Module and DDMRP
DDMRP is an integral methodology which encompasses many of the elements taught by APICS. See this as an advanced training which deals with the problems of many operational (out of date) MRP systems.
It also deals with the dynamic market conditions and sets in place tangible and operational tools in the process, irrespective of the IT support system.
The added value of pursuing this training when an APICS training has already been followed
The APICS Training is a good and solid basis in Material Management and Operational Principles. The DDMRP Training which can lead to the official and ISCEA accredited education degree of 'Certified Demand Driven Planner' can be seen as an advanced training. All terms and acronyms used are consistent with those used in APICS training modules. It is not required though to be APICS certified to join the training sessions, most Supply Chain practitioners can easily become familiar.
The benefits with regards to the business functions when following DDMRP
Source; DDMRP allows a comprehensive method to create call schedules which can be managed well by schedulers. This can be created in cooperation with your (main) suppliers.
Make; The Bill of Material can be provided with strategically positioned 'buffers' and shortened lead times.
Deliver; the methodology allows for optimization of the Delivery Network
The production processes that are best positioned to benefit from the DDMRP Methodology are
Discrete Manufacturing, Batch Type Processing, Assembly Lines, Value Added Logistics (VAL), continuous processing to a certain extent.
The Demand Driven Institute (DDI) was founded by Carol Ptak and Chad Smith, co-authors of Orlicky's Material Requirements Planning, Third Revised Edition in order to proliferate and further develop demand driven strategy and tactics in industry.
The Demand Driven Operating Model
The entire foundation of DDMRP is based upon the connection between the creation, protection and acceleration of the flow of relevant materials and information resulting in return on investment.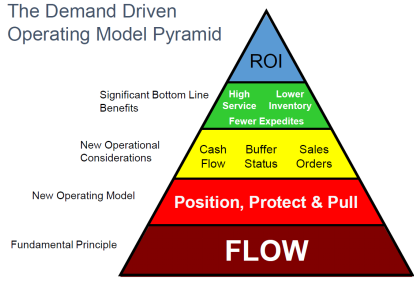 Every for profit company has the same goal - some form of return on shareholder equity. When the flow of relevant materials and information increases return on investment increases. Conversely, when processes are drowning in oceans of irrelevant data and materials return on investment decreases. Cash, capacity and space is tied up in unnecessary inventory and expedite related expenses are incurred as people attempt to deal with the chronic and frequent shortages. Ultimately, the relevance of materials and information is determined by whether there is a real customer demand - a demand that results in actual payment for the effort and cash expended.
DDMRP and CDDP
When learning more about DDMRP it's important to know that this is the name of the Demand Driven concepts. DDMRP delivers a training called; CDDP (Certified Demand Driven Planner). The CDDP training is focused on the DDMRP principles, practical application and day to day processes.
The five components of CDDP are:
1. Strategic Inventory Positioning;
Strategically placed decoupling points within the product structure and supply chain to absorb variability and compress lead times.
Determine where inventory will be positioned;
- Customer Tolerance Time
- Market Potential Lead Time
- Supply and Demand variability
- Inventory Flexibility and Matrix BOM
- Supply and Distribution Net Structure
- Critical Resources Considerations
2. Buffer Profiles and Level Determination;
Properly considering where to put inventory is necessary to eliminate the most common types of problems associated with inventory and materials management. However, it is far from sufficient to eliminate these problems. Once parts have been selected that merit a strategic position designation, the process of setting their perspective buffer levels begins.
3. Dynamic Buffers;
Over the course of time, the conditions that placed parts/stock-keeping units (SKUs) into certain buffer profiles, as well as their individual traits, can and will change. New suppliers and materials are used, new markets are opened and grow while others deteriorate, and manufacturing capacity and methods change. These changes will affect inputs into the buffer equation. Letting buffer levels adjust themselves to these changes allows a company to adapt its working capital to a dynamic environment. There are three types of adjustments to be considered: recalculated adjustments, planned adjustments and manual adjustments.
4. Demand Driven planning;
Generating coordinating and prioritizing actionable material signals becomes much simpler when the environment is modeled in a demand-driven way. The current inventory status is evaluated for potential negative impacts. Flags are set for alert and due to this planners have the ability to see quickly where the signals are really coming from and react appropriately before they get into trouble. This better matches the current intuition of the planners and now they have real visibility to establish correct and comprehensive priorities. DDMRP creates resupply signals based on the 'available stock' status of each buffer. This gives prioritized sequence based on the actual need.
Highly Visible and Collaborative Execution.
Conventional MRP systems lack real-time and focused visibility to actual and relative priorities associated with purchase orders, transfer orders and manufacturing orders throughout the internal manufacturing operation and supply chain. Without an effective priority approach, conventional tool force supply chains to employ a rudimentary and arbitrary priority system called; priority by due date.
CDDP Training Program
Please find below an overview about the training content which will be discussed during the 2-days course.
Module 1: MRP in the Modern World – the materials challenge in the 21st Century
Key questions for planning and flexibility
Dealing with Variability
Materials or Capacity – Where to Focus First
Continued Relevancy of MRP formal planning
The Challenge of MRP in Today's Environment
MRP and Pull-Based Methods (e.g. Lean, DBR)
The Stagnation of MRP
The MRP Conflict
Module 2: Demand Driven Material Requirements Planning Introduction
What does "Demand Driven" mean?
Blending Independence and Dependence
Part Types in DDMRP
Planning and Execution
The Five Primary Components of Demand Driven MRP
DDMRP Comparison to Past Practices
Module 3: Strategic Inventory Positioning
The Positioning Factors
ASR Lead Time and Matrix BOMs
Module 4: Distribution Network Positioning
Distribution network factors
Cumulative variability
Demand driven versus push and promote
Module 5: Buffer Profile and Level Determination
Inventory – Asset or Liability
Buffer Profiles
Buffer Zones
Calculating Buffer Levels
Buffer Level Summary
Module 6: Dynamic Buffers
Recalculated Adjustments
Planned Adjustments
Manual Adjustments
Replenishment Buffers versus Safety Stock
Module 7: Demand Driven Planning – Stocked Parts
Part Planning Designations
The DDMRP Planning Process
Supply Generation for Stocked Items
Supply Generation for Non-Stocked Items
Decoupled Explosion
Module 8: Demand Driven Planning – Non-Stocked Parts
Part Planning Designations
Supply Generation for Non-Stocked Items
DDMRP in Pure Make/Engineer to Order
Module 9: Highly Visible and Collaborative Execution
Challenging Priority by Due Date
Buffer Status Alerts
Synchronization Alerts
Execution Collaboration
Module 10: DDMRP Performance Reporting and Analytics
DDMRP Performance Reporting
Analytics
DDMRP Solution Summary
For more information on the methodology www.demanddrivenmrp.com
Planning
Visie Partners offers the possibility to attend to the CDDP course in the Netherlands. The training course consists of 2-days of classes.
Course schedule and location
On this page, you can find when the next CDDP courses will be given.
Investment
The fee for participation in this two-day course is €1.395,- excluding VAT and exam.
This price includes;
Course materials, coffee and/or tea and lunch.
Exam information:
The exam is online during set hours.
To register for the exam please go: To the exam registration