APICS DICTIONAIRY
APICS heeft als het instituut in de wereld als het gaat om logistiek een eigenwoordenbroek samengesteld. Deze bevat de termen zoals deze door APICS gebruikt worden, deze zijn overgenomen door de meeste MRP software leveranciers.
De APICS Dictionairy app heeft 2 varianten, de boek versie welke te bestellen is.
Er is ook een online versie welke gratis te downloaden is uit de app store en de play store.
The App
Download the free APICS Dictionary mobile app. Inside you'll find:
more than 4,900 terms and definitions
updated and improved flashcards
game categories for the APICS CPIM, APICS CSCP and APICS CLTD certifications
easy access to definitions anytime and anywhere with offline search functionality
end-of-game answer summaries and save-for-later features to customize study sessions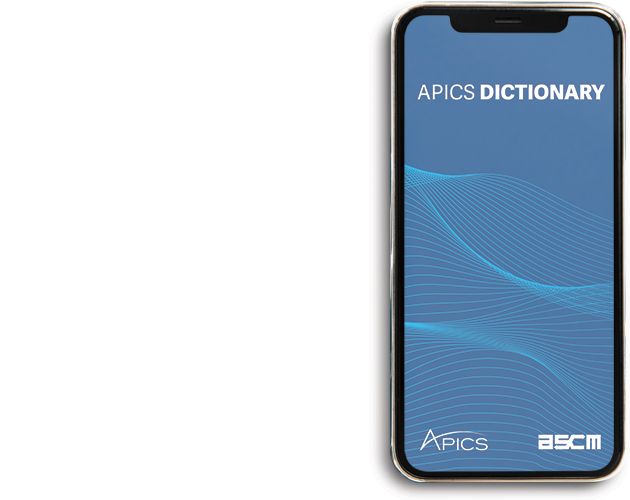 Stay current and improve productivity, consistency and knowledge across the supply chain with the 16th edition of the APICS Dictionary.
Features include:
more than 4,900 terms and definitions
approximately 200 terms added or modified
The dictionary can be purchased from us, or join ASCM to receive a free ebook version.
Do you want to contribute to the Dictionairy? Submit your suggestions